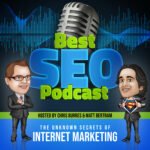 _builder_version="4.4.3" global_colors_info="{}"]
Video Transcript
Chris Burres
Hi, I've known secrets of internet marketing. My name is Chris Burroughs. One of the owners here at EWR digital, 
Matt Bertram
And my name is Matt Bertram. I'm the lead strategist here at EWR digital.  And hopefully there's no feedback loop happening.  I turned down my volume. 
Chris Burres
Welcome back to a fun-filled edition of our podcast.  This is podcast number 5 32.  We've made it to 5 32.  I you probably not.  That's pretty. 
Matt Bertram
Awesome, Chris. 
Chris Burres
It's a lot of podcasts.  We are broadcasting live here from Houston, Texas, and Matt and I are like working on becoming an understanding crypto at the marketing level.  Like yeah. 
Matt Bertram
Yes, I don't.  I, you know, that is absolutely true.  We are setting up some nodes with our hosting company. 
Chris Burres
Going on. 
Matt Bertram
Yeah, we got some miners going on or we're we're doing a number of Rudd three stuff we're getting into the metaverse.  Yeah.  We're like we're web three in it out. 
Chris Burres
That's kind of what we have always intended with this podcast is we work hard to stay on top of whatever trend and frankly, in the crypto space, you really need to play around with it so that you can have some good advice and ideas to support it.  I think there's some company has purchased some massive property inside the metaverse and they're going to run concerts there and like that's marketing strategies.  That's marketing in the metaverse. 
Matt Bertram
I am launching a crypto podcast this year. 
Chris Burres
Cool. 
Matt Bertram
Yeah.  So I'll, I don't know the name of it.  I don't have any details, but I have a number of people that I've connected with in the space that I will be interviewing.  So more to come on that, so, 
Chris Burres
Well, very cool.  I, I can't imagine anything else then for you to also write articles on crypto, because the article we're covering today is from search engine journal and written by none other than you.  So I can imagine that you're going to be creating, writing some crypto articles and that's cool.  Like you're becoming quite the prolific content generator. 
Matt Bertram
Well, you know, content generation is key and, you know, we're establishing herself as a, I guess, a fixture in the marketing space with the number of clients.  And we've been bringing on a number of different people and I've had more time.  So, 
Chris Burres
You know, you said content and this has been a, you know, a stock phrase for so long content is king.  And I was having a discussion with a mutual friend of ours, Nolan Davis, and he does videos and big networking events.  He holds a Guinness world record, like just kind of a phenomenal guy.  And we kind of came to the conclusion that, you know, content isn't really king content with distribution is king.  And you said it a different way, which is content is king queen is distribution.  And the queen wears the pants in the family. 
Matt Bertram
I did say something like that.  Yes. 
Chris Burres
Which I also like, 
Matt Bertram
Well, that is a lot of, one of the things that we're focused on too.  So not only for clients generating very high quality content, but also syndicating that content out and repurposing that content or as like digital marketer would call it, splintering that content out and then utilizing that in other ways in on multiple channels.  And so that is really one of the things that we're doing is really focused on high quality content creation and then using that on different mediums.  So. 
Chris Burres
Excellent.  All right.  So let's jump into this article before we jump into the article.  I do have to ask that if you like the content you find on our website, please write us a review.  Hopefully you can make that review.  We need to get back in line. 
Matt Bertram
Yeah, I think that really did good there.  That was pretty, pretty. 
Chris Burres
And the best way to do that is just go to AWR digital.com forward slash review.  And that will take you right there.  It's super simple.  Leave that five star review.  And also if you're watching or connecting on YouTube, make sure you like subscribe.  That includes you Patrick Lopez.  Who's connected to us on YouTube.  Like, is that YouTube?  That may be Facebook, 
Matt Bertram
Facebook, 
Chris Burres
Facebook. 
Matt Bertram
I've seen this live on multiple trails for those that one game.  And I'm looking at Twitch, Chris, I know you said not til we get Twitch, but I'm super interested in what's going on in Twitch.  And so we may be broadcasting on Twitch as well. 
Chris Burres
So yes.  And if pat, because Patrick is definitely on Facebook, he's confirmed it also the icon next to his name confirmed, which I couldn't see earlier.  If he was on YouTube, he would be clicking the subscribe button and clicking the notification button and making sure he gets all the latest content.  This article again is by Matt.  Well done enterprise SEO for WordPress plugins tips and proven tactics.  Let's jump right in.  So first off, a lot of people use WordPress, right?  And apparently the number is like 39.5% of the world's websites are on WordPress.  It is the leading content marketing system on the planet.  It runs things like Sony, Microsoft and tech crunch.  So it's an impressive and enterprise level, piece of software.  I think that's really important. 
Matt Bertram
Chris fun fact that Matt who invented WordPress is from Houston. 
Chris Burres
Oh, wow. 
Matt Bertram
Yeah.  And not only that in Houston, I went through like the Houston business journal and I looked at like the top, let's say companies from like 20 million to like a hundred million or whatever, the majority of them were actually using WordPress as well. 
Chris Burres
Oh, wow. 
Matt Bertram
And so that's, I think a misconception that people are using like.net or Magento or some of these other sites, depending on what they're used for WordPress is still an excellent option.  And there's a ton of companies that are still using WordPress. 
Chris Burres
Yeah, absolutely.  And we want to get that out there and we'll probably belabor that point at some point in, as we continue.  Cause it's absolutely true.  This is open source software that can support enterprise level websites, what star.  And it started out as a blogging platform like 10 years ago.  Apparently the guy who created it lives here in Houston, it's now not. 
Matt Bertram
Anymore.  But he. 
Chris Burres
Was in Houston is from here. 
Matt Bertram
He was day his day.  He was dating a girl in Houston, not too long ago, like couple of years back.  So I, you know, I, we haven't like kept up with each other, but yeah.  So, 
Chris Burres
So 30 million enterprise WordPress websites are live again, onward press.  There are many benefits, but at the top is how it can contribute to your SEO strategy and building trustworthiness credibility in the search results.  So let's dig into the top reasons were press, may be right for your enterprise and the tips you'll need to make it a success by the way.  I don't know if you want to pull this live, but there's a good graph of the increase in utilization of WordPress. 
Matt Bertram
Well, so yeah, let me shrink my screen here a little bit to pull it up, but it's interesting.  Right?  So we actually created these images.  We're really recommending that you put custom images in blogs, but it says image created by author. 
Chris Burres
It can't say image created by AWR digital. 
Matt Bertram
Nope.  Nope.  And I think if you can hear some music going on, my music just. 
Chris Burres
Started randomly.  So. 
Matt Bertram
Yeah.  So I'm going to share my screen here for those that can see this image created by my author and then you can see the growth there.  So let me now find my volume, 
Chris Burres
The music. All right.  So is WordPress good for enterprise?  I think we've covered it, but let's jump into it.  WordPress is open source software.  So your business has access to endless designers.  And this is really going to be like, why do we believe WordPress is good for enterprises now?  It's hard.  And this was way back.  We made a decision at one point where we're using dot ASP classic to generate websites.  And we made the decision to move to WordPress because one, a lot of people had questions about, Hey, I want to be able to manage it themselves.  Right.  Well, one of the things that's interesting about that is a lot of people want to be able to manage it themselves and ultimately never manage it themselves.  They never do anything. 
Chris Burres
And frankly, normally when they do, they mess it up.  And that's from the perspective, usually from the perspective of uploading photos that are too big. But at that time when we're making that transition, my thought process was, well, we could do asp.net, right?  That's one, there's lots of other ways you could've gone down.  And I don't remember all of them right now, but ultimately the reason I decided WordPress was too, it was easy enough that we could, in fact, if we needed to hire a high school student to work on it immediately, and that is actually still true today, we're not talking complex changes.  We're not talking theme level changes, but they could get on and add content, remove content.  You know, 
Matt Bertram
That's something that we do a lot with people in house is show them how to update maybe a portfolio or a blog or about us page, you know, easy changes that are not structural changes with.  We're talking about text or adding some images.  And then, you know, depending on that person's level of experience, we can teach them more advanced stuff.  But we do a lot of like quote unquote corporate training where people in-house, or people that have hired people to help them maybe for like a small business, don't have to have extensive knowledge on WordPress, but can still get in there and, you know, make changes, maybe, you know, uploading a blog is a little bit more complex, but still possible. 
Matt Bertram
And so, yeah, but I think that WordPress gives you the ability through like a visual builder on the backend to be able to do things.  So it's not all done through code. 
Chris Burres
Yeah.  Yeah, absolutely.  And that was the other reason was, you know, people were like, okay, well, if you guys fall off the face of the earth or if I just stopped liking you and want to go somewhere else, when you think about WordPress and it's accessibility, you can just go on to any platform that helps you find subcontractors or whatever.  And you can find an informal quantities of WordPress quote unquote experts.  So that was, 
Matt Bertram
Yeah, that'd be careful that. 
Chris Burres
Quote unquote, excellent.  You might have to go through 10 of them to find one that is actually able to accomplish what you want to, but. 
Matt Bertram
Kissing a lot, you know, you'll kiss a lot, frogs.  Yeah, just a lot of frogs, but you'll find maybe a prince in there. 
Chris Burres
I, and we don't, I don't know the statistic, but I, I, it would surprise me if there's any kind of digital marketing agency around that isn't able to work in WordPress that would surprise me greatly next.  The user community allows you to leverage best practices and implement them within your own system.  So you're able to use lean on all the experience people have from having WordPress sites and make back, apply best practices to your own WordPress site.  Here are a few reasons why WordPress is great for enterprises.  We've got five of them here.  One is ongoing support as opposed to proprietary systems that provide more flexibility of the ongoing support in this open source provides more flexibility and customization to robust content editing experience with WordPress Gutenberg, that improvement with WordPress is great. 
Chris Burres
And so you've got a nice, easy interface to work.  It work with a number three high-level security.  Again, when all of these people are, all of these websites are out there, they're exposed to a lot of cyber attacks and they're hardened against those cyber attacks.  And that hardening information is shared throughout the WordPress community.  So you have the ability to apply that great cyber attack hardening to your own website. 
Matt Bertram
Yeah.  Can I do a shameless plug here for cohost? 
Chris Burres
Yeah, I guess. 
Matt Bertram
Okay.  So co-hosted dot com.  We've been onboarding a significant number of new accounts, and we are finding if you have an e-commerce site or you're, you know, a lifestyle business, there could be credit card skimmers on your website and we've actually caught our security experts actually caught a, what is it called a zero day hack or something like that the community has never found before.  It was pretty complex.  He called it pretty elegant and these things are getting tougher and you really want to have a lot of security or hosting or people that know what they're doing, managing your website, especially if you're dealing with people's sensitive information. 
Chris Burres
And everybody needs a webmaster.  And so co-host actually has that as a service as well.  Just somebody to kind of master your website, manage your website on an ongoing basis.  Next number four, scalable infrastructure.  Again, it's open source.  It's constantly being optimized, even Gutenberg as an example of optimizing it for user-friendliness and there's huge cost savings, right?  You want to adopt Adobe or Magento or even HubSpot.  You're talking about significant investment where here it's open source.  You've just got to have the hosting.  And hopefully you're going to have a web master to make sure that the changes that you want done on your website are done correctly. 
Matt Bertram
So, so a couple things on that point, we've actually run across a few enterprise companies that don't have enough infrastructure support internally for their website.  I think that there's a debate between, okay, open source versus someone I can point the finger at and say, like fix it.  And I do think that a number of enterprise clients will go with that and they're paying huge fees to do that.  But I don't think that they understand that you still need internal infrastructure or people to do changes and management.  And so when you look at it from a security standpoint, from a cost standpoint, it's very competitive.  It's actually more competitive, like when we provide bids.  So we just want a bid for like, you know, 50 location company built their website.  Guess what? 
Matt Bertram
We built it in WordPress?  Well, our bid came in a lot lower than people that are going to have to pay those licensing fees, not just upfront, but ongoing.  Something to think about. 
Chris Burres
By the way, we are not sponsored by WordPress developers have downloaded over 81 million versions of WordPress.  They have also created over 59,000 plugins and 9,000 themes.  We are not in any way suggesting that there are 59,000 good plugins out there, but there are a lot of plugins out there.  And they're actually a lot of good ones, just not all of them were press benefits for your enterprise SEO strategy.  So SEO is an essential part of your business digital strategy, or it should be, I mean, we've worked with companies where the digital strategy that we're implementing for them at first, at least is just like an add on, oh yeah.  We believe that we should be doing some sort of digital marketing strategy.  Here's a little bit of money. 
Chris Burres
Why don't you guys go play around with that.  And I don't know if you want to speak to like what happens as they understand that we can actually deliver value and results and traceable results.  Yeah.  Their attitude changes.  Sometimes. 
Matt Bertram
I, I think that, you know, you get a little taste of like what the power of SEO is and what it can do for you certainly rankings and Google can move a business's bottom line by 25% easy. 
Chris Burres
Yeah. 
Matt Bertram
I mean, 
Chris Burres
Yeah.  All right.  WordPress SEO is well optimized to help you increase user engagement and boost rankings.  You know, user engaging engagement is very important.  Ultimately for your rankings, it includes several built-in features that help